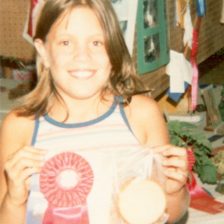 A life without passion is not a life at all.
I first started my baking career in 1980, when I was ten years old, and it's been my passion ever since. And apparently, I was pretty good at it. When I was 11, I attended the 4H Youth Fair and won a blue ribbon in the bread category, then went on to win the Rosette for Second Best in Show. My little bread and I then moved up to state fair, where we took home the blue ribbon.
Baking was always a part of me
I had my life on the side, working in graphic design, but baking kept creeping into the back of my head no matter what I did to stop it. I smelled cookies in my dreams and heard the whirring of mixers as I walked down Manhattan streets. My friends had always told me that they "wanted to buy my Christmas cookies," and in 2010, after my divorce, I decided that I really could make this into a business. But what could I sell? I wanted something original, something that would really turn heads. That's when a friend recommended the cakeball. I did some research and realized that yes, cakeballs were definitely something I could do. I got serious about the business, and in 2011, I launched Auntie Liana's Baked With Love at the Hudson Valley Wine and Food Fest. I brought cookies, cupcakes, rum cakes and cakeballs, and when all the cakeballs sold out, I decided to make them the staple of my business.